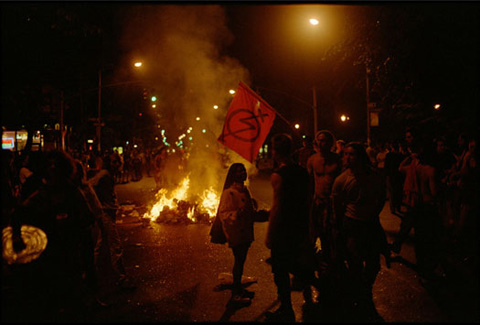 This photo was captured by Clayton Patterson, the Lower East Side's hometown historian and archivist. In 1988, the NYPD covered their badges and violently attacked the denizens of Tompkins Square, which had throughout the 80s developed into a tent city. The Reagan years saw a massive rise in homelessness, and Hoovervilles like the one in Tompkins had popped up around the country. But Tompkins was a special place. It was the nucleus of a community filled with radicals, squatters, artists and activists. Some likened Tompkins and the squats to a modern day Paris commune.
In August of 1988, the riots lasted for several days. The cops were brutal, beating on neighborhood people and protestors alike. It was clear on whose behalf the NYPD was working: the real estate speculators and developers who had swarmed on the neighborhood like KBR on post-invasion Baghdad. For a few days, the people who actually live in this city rose up against City Hall and the developers, the NYPD and the invading Yuppie hordes. In this photo, Clayton puts a red Squatter's Rights flag front and center. It's an iconic image, reminiscent of a third world revolution. As my friend and riot instigator, Jerry the Peddler has put it, "the squats owned more land than any progressive movement in history, and owning land is what revolutions are all about." The unnamed protestor waving this flag stands for the end of an era. Soon after the riots, New York would undergo a mass transformation culminating in Giuliani Time and then the Bloomberg years of slipping wages and rising rents.
I look at this photo whenever I give up hope that we can take our city back from the robber barons who prosper from our need for a roof over our heads. This is one instance of a true people's uprising. It's also just a beautiful picture.